Karl Dungs DMV Z Double Solenoid Shut Off Valve
---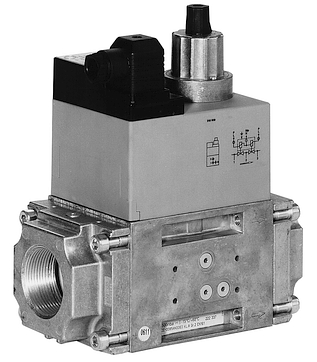 The Karl Dungs series DMV Z double solenoid shut off valve incorporates two automatic open valves in one compact housing. The DMV Z is a normally closed valve and is electrically opened .Each solenoid coil can be wired independently or in parallel. The second coil has two independent stages and is adjustable for high / low firing. DMV Z series can be used on both industrial and commercial burners to act as a double safety shut off valve.
Features:
UL Recognized , FM approved, and CSA certified
Suitable for natural gas , propane, butane and inert gases
The valve has the capability of adding a direct mounted gas pressure regulator, gas pressure switches, a vent line adaptor & valve proving system in a modular fashion. This gives the DMV Z the ability of having a whole gas pipe train in a compact space.
Versions come with an adjustable limiting orifice feature and adjustable opening time.
The two stage second coil can take the place of a control valve, and or an actuator for high / low firing.
---