United Process Controls Oxyfire Probe
---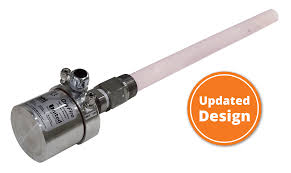 The Oxyfire sensor Measures oxygen concentration in the high heat zone (a 1000°F and above) in any boiler, furnace or incinerator and can control O2 via a 4-20 mA output signal. Controlling oxygen will decrease excess air in the combustion process, which will in turn decrease fuel consumption and NOX formation.
Applications include: Power Generation, Glass and Ceramics, Aluminum melting, and incineration.
Features:
Comes with a sheathed thermocouple. Either type K, B, S or R.
Available in a variety of lengths to fit the application. Up to 48".
Fast Response time, less than 5 seconds. For maximum process control.
12-month warranty.
---