Karl Dungs MPA 41 Flame safeguard relay
---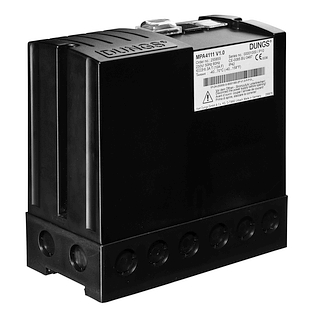 The Karl Dungs MPA 41 is a microprocessor based automatic flame safeguard relay which will sequence burner light off and continuously monitor the flame. In the event of loss of flame, the MPA 41 will safely shut down the burner system.
Features:
Worldwide approvals, so ONE flame safeguard, the MPA 41, can be installed anywhere in the world. AGA , FM , CSA and CE approved
The MPA 41 can use either flame rod or UV scanner for flame sensing.
TheMPA 41 has programmable purge timing, safety timing and pilot operation.
The MPA 41 can be reset either locally or remotely in the event of a flame failure.
Versions come either with or without display. Version with display will show sequencing of the burner light off and first out indication.
Two UV scanners can be wired into one MPA 41 for a two burner flame safeguard.
Versions are available with modbus or profibus for communications with PLC.
---