Eclipse Bayonet Ultra Recuperator
---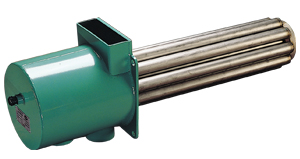 Conventional recuperators are designed with one heat transfer tube. The Eclipse Bayonet-Ultra design has multiple tubes that greatly increase the heat transfer area while significantly improving the fuel requirements to retain required heat levels. It's design features an air cooled housing unit that adds extra efficiency in cooling the area.
Bayonet-Ultra recuperators are high performance heat exchangers that are made to fit within the exhaust leg of a single, U, O, W or trident-type radiant tube. They're generally paired with tube firing burners and are sufficient for use with heat exhaust streams up to 2100 degrees fahrenheit.
Bayonet Ultra Recuperator Features:
Versatile design that can adapt to and be use in many different applications.
Installations seldom need special brickwork, radiant tube or exhaust modifications.
Eclipse Bayonet-Ultra recuperators come in four sizes to fit within radiant tubes with diameters ranging from 3" to 8".
A choice of pressure drops allows the Bayonet-Ultra recuperator to be matched with most blower systems.
Tube lengths can be shortened to meet installation specifications.
While installing, multiple-tube furnaces don't have to be shut down; only the tube being fitted.
Provides fuel savings of up to 30%.
Typical Bayonet Ultra Recuperator Applications:
Indirect Fired Furnaces
Continuous Lines
Hardening
Galvanizing
Tempering
Annealing
Combustion Systems
The Eclipse Bayonet Ultra recuperator is an exceptional heat recovery device that boosts burner efficiency up to 65%. It's a top choice for counter flow energy recovery and heat exchanging systems air flow management.
---