Fox Thermal Instruments: "FT-1"
---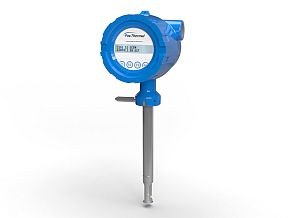 The Fox FT-1 thermal gas flow meter uses a constant temperature delta T to measure the flow rate of air and or a variety of gases. The FT-1 measures mass flow of air and gases without the need for temperature or pressure compensation.
Applications include: Boilers, Waste Water Treatment and Power Plants.
Features:
FT-1 can be reconfigured in the field to accept a change in gases.
Accepts 10-30 VDC power, so no need for a transformer when using a PLC control system.
Can be ordered with flow display on instrument head for quick local readout.
The FT-1 measurement probe creates little or no pressure drop on order to measure flow.
FT-1 comes with two output signals: 4 to 20 mA or pulse, or RS 485 to fit customers application.
---