Eclipse ImmersoPak
---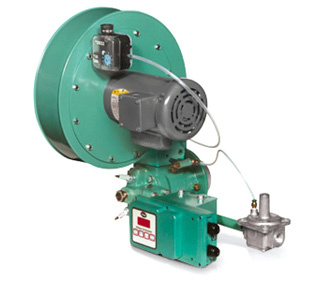 The Eclipse ImmersoPak burner is perfect for heating immersion tubes on equipment like cleaning tanks, spray washers, salt baths, quenching tanks, tempering tanks, asphalt tanks and other similar service equipment. The ImmersoPak is simple to install, easy to operate, and offers a long service life and superb durability in industrial environments. It delivers a smooth and quiet performance, even during cold starts.
ImmersoPaks are nozzle-mixing burners complete with a packaged combustion air blower. They are available in four different sizes for firing immersion tubes up to 12" in diameter. Their capacities range from 300,000 to 2,200,000 Btu/hr. Depending on ImmersoPak burner size, fuel and control method selected, turndown ratios as high as 56:1 can be witnessed. The modular design of this burner makes a wide variety of options available. Adaptability and versatility are designed into the ImmersoPak, making extensive tube or exhaust modifications a rarity with new or retrofit installations.
As with all Eclipse brand combustion products, you can be confident that ImmersoPak burners are well known and hold distinction in the industry for their quality, safety, reliability and efficiency.
Features:
A packaged burner design, with the blower, burner and control system all in one unit. Thereby lowering equipment cost and installation time.
Easy to startup. All that needs to be done is to bring a specified gas pressure to the ratio regulator.
Less equipment to purchase, because the ImmeroPak can be direct spark ignited with no pilot pipe train to purchase.
High burner turndown range, so tanks can be brought to temperature quickly, without temperature overrun.
Quiet burner operation
Easy to install and operate.
---